Find Which New Ford SUV in Holyoke is Right for You
Many automakers are expanding their SUV lineups as more drivers find that they can enjoy fun rides in these larger vehicles. Ford is one such automaker, and we have a tremendous selection of new Ford SUVs for sale near Westfield, MA! Ford has added to its SUV lineup recently so that drivers have more options when wanting to buy a new crossover or SUV. We have a variety of both two- and three-row Ford SUVs for sale in Holyoke, so we're the place to come when you're thinking of buying a new SUV!
Of course, having all these new Ford SUVs can make it harder for car shoppers that aren't quite sure which model best suits their lifestyle. That difficulty is why we've highlighted each new Ford SUV below, along with providing a table to easily compare everything from seating and cargo space to horsepower and towing capacity! Check it all out to find the right Ford SUV for you!
 New Ford EcoSport
We will work our way up from small to large, which means starting with the new Ford EcoSport near Agawam. The Ford EcoSport is the newest SUV in the Ford lineup, and it matches impressive efficiency, up to 27 mpg city, with capability for snowy conditions or rural adventures thanks to four-wheel drive. The new Ford EcoSport is also a great value as it has an affordable starting price while still providing high-tech systems and features like heated seats that we know drivers are looking for! There's also a lot of space in the cabin for passengers and cargo alike, but the compact dimensions make it great during city driving.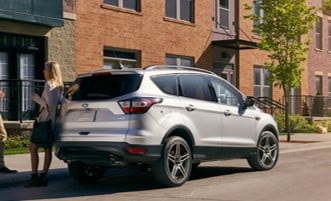 New Ford Escape Near Chicopee, MA
If you're a driver that needs a bit more cabin space and capability from your SUV but still want a compact crossover, the new Ford Escape has you covered. The new Escape is another value-packed Ford SUV for sale near West Springfield, MA as it has efficient engine options and a great starting price and standard feature package. There's also a lot of cabin space for items such as groceries or sports equipment as well as five passengers. The new Ford Escape also has more features that drivers and passengers will love as they take to the open road, and it tows up to 3,500 pounds if you have trailers you need to get around!

New Ford Edge for Sale
The largest two-row Ford SUV and also the most powerful, the Ford Edge combines performance with traditional SUV characteristics. The body design makes for precise handling and comfortable rides on city streets or twisting highways while the engines provide power for effortless acceleration. There's lots of room in the cabin of the new Ford Edge as all passengers get over 40 inches of legroom, and the max cargo space stretches nearly 75 cubic feet. The Ford Edge also provides brilliant safety systems standard so that you can enjoy the performance of the SUV while having peace of mind thanks to these driver-assist features!

New Ford Explorer Near Springfield, MA
All-new for the 2020 model year, the Ford Explorer is an improved family-friendly SUV that can still thrill those drivers wanting some excitement. The smaller of our two new three-row SUVs for sale near Springfield, the Ford Explorer still provides lots of passenger space and tons of room for your gear. The exterior has a bold style sure to draw eyes to your SUV while the interior treats passengers to premium materials and many amenities. There's also now a Ford Explorer ST model that has 400 horsepower for you to play with, and all new Ford Explorer models have comfortable rides to ensure potholes and other bumps are barely felt!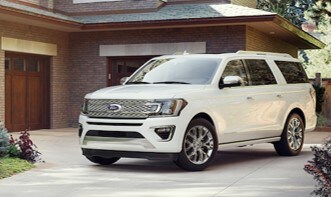 New Ford Expedition
The new Ford Expedition is the largest Ford SUV, which it shows with seating for eight and over 120 cubic feet of cargo space in Ford Expedition MAX models. This powerful full-size SUV also tows over 9,000 pounds without breaking a sweat, and it's one of the most comfortable rides around. The Ford Expedition is a great SUV for families as it has entertainment systems for little ones and standard safety features that will make parents feel more at ease while traveling. Really want to relax? The Ford Expedition offers massaging front seats to take knots out while you're on the go!